The time to enter 2017 SXSW Accelerator is here!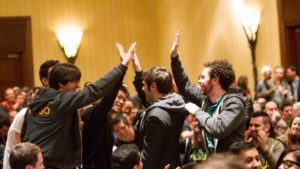 Photo by Tim Strauss.
Application Deadline to apply: Friday, November 11th at 11:59pm CST.
Take advantage of the opportunity to showcase your emerging technology product or service in front of industry leaders by participating in the 2017 SXSW Accelerator. This event takes place on March 11th and 12th as a part of the SXSW Festival, during which you can improve your product launch, attract venture capitalists, polish your elevator pitch, receive media exposure, build brand awareness, network, socialize and experience all that SXSW Interactive has to offer. The deadline to register is Friday, November 11th at 11:59pm CST., a few months away, so visit http://sxsw.com/interactive/accelerator/entry-info today.
Past Participants Research
Of the 353 companies who participated in SXSW Accelerator between 2009 and 2016, over 71% received funding, with combined funding in excess of almost $3.10 billion (does not include undisclosed grants, angel and seed funding). Of these 353 companies, 14% have been acquired by the likes of Google, British Telecom, Huffington Post, Apple, Live Nation, OpenTable, Constant Contact, and Harmon. For more information on past alum please visit http://sxsw.com/interactive/accelerator-alums
1) Deadline: Friday, November 11th at 11:59pm CST.
2) Launch date eligibility requirements:
a. A company's product / service must have launched no earlier than September 11, 2016.
b. A company's product / service must not be launched after June 11, 2017.
c. Companies will be allowed to submit only one product / services to the SXSW Accelerator event.
d. Companies who submit more than one product / services will not be eligible to participate in the SXSW Accelerator pitch event.
e. Founders of the applying startup must retain some portion of ownership in the company to be eligible to participate.
f. Company must not have raised over seven million in funds from combined funding sources.
g. Product or service must fall within one of the SXSW Accelerator pitch event categories.
3) Is there an application fee?
a. Yes, a non-refundable $220 entry fee will be required from all applicants who would like to be considered for participation in the event.
4) Applicants must be within one of the ten categories:
Augmented & Virtual Reality
Technologies using augmented reality (AR), virtual reality (VR), and other novel visualization technologies, including applications for Cardboard, Oculus Rift, and other emerging offerings from industry giants. These applications may address such uses as gaming, entertainment, data visualization, education, medical care, warfare, transportation, and many more subjects.
Enterprise & Smart Data
Technologies that facilitate the comprehension and application of informational data through workflows and analytics. These startups seek to improve productivity for businesses and/or individuals by using big data through a number of ways that include (but are not limited to) data collection, management, analysis, presentation, interpretation, and augmentation.
Entertainment & Content
Technologies and applications that are reinventing the ways in which we learn, relax and enjoy our time. Examples of included sectors include (but are not limited to) gaming, music, film, television, video, news and publishing, streaming and digital storytelling, as well as new and hybrid forms of entertainment.
Health & Wearable
Technologies focused on human-centric health applications that connect the "health optimizer" and those with illnesses, their care teams, primary and specialist clinicians, inpatient and outpatient facilities, benefit providers, and corporate wellness programs to share timely, relevant health data and drive better outcomes at affordable and sustainable cost levels.
Innovative World
Any creative and innovative technology that does not fit in another category is encouraged to apply here. Examples of technologies that are currently seeing innovation include (but are not limited) to the Internet of Things, energy, space, natural resources, agriculture, and robotics.
Payment & FinTech
Technologies relating to the consumer and business financial space that include delivering new payment methods, new forms of currency, extending credit and other lending processes, equities trading, transaction processing, asset management, insurance, and/or any other functions traditionally provided by banks and investment banks.
Security & Privacy
Technologies revolutionizing sectors related to data security and privacy on the consumer and enterprise level. With interests rising in this field, examples of innovations include (but are not limited to) cybersecurity, encryption, data storage, infrastructure protection, incident analytics, ad targeting, identity management, and many other forms.
Social & Culture
Technologies that push the boundaries on how we navigate and interact in life with ourselves, our community, and our world. Examples of such sectors include (but are not limited to) social media, networking, dating, travel & hospitality, food or dining, fashion, the environment and social good.
Sports
Technologies impacting the before, during, and after in the sports and athletics sector. Whether geared towards novices or elite professionals, innovations in this field include (but are not limited to) the way we experience, prepare for, and participate in sports and outdoor recreation by using hardware or software applications focused on data-centric intelligence, measurement, and other analytical forms.
Transportation
Technologies transforming and optimizing the transportation industry on a consumer and enterprise level. These innovations create efficiency in the way we move from point A to point B through (but are not limited to) the connected car, data routing applications, on-demand or ridesharing services, autonomous vehicles, and other new disruptive means.
5) Where can I get more information?:
Visit the Accelerator website at sxsw.com/interactive/accelerator and apply today! Please tell them that you heard of the Accelerator through me. Or feel free to reach out to me, Todd Tate – SXSW Accelerator Advisory Board through this form below:
[contact-form-7 404 "Not Found"]