I was honored to have LinkedIn ask me to write a short piece about the Apple Music announcement. Below is the post.
This week's announcement of the new Apple Music service has the music and music tech communities all abuzz. It's important to view this development in the larger picture of competition in streaming music, which many in the industry see as services competing against one another, and many others think this will open the market up and create more opportunity for all.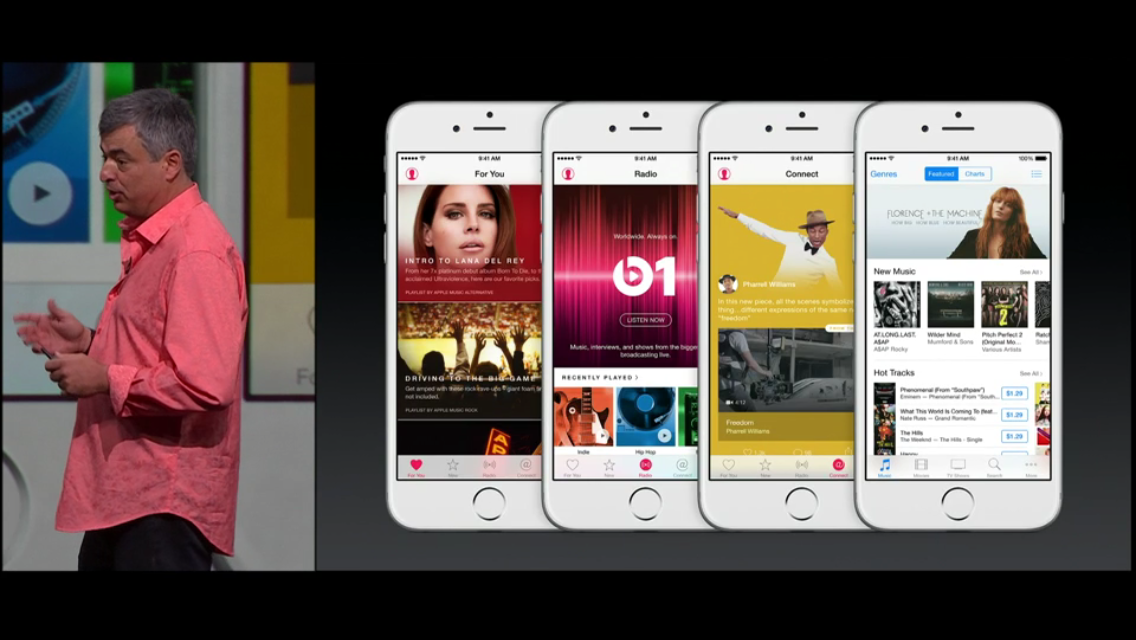 Above: Discover, Beats 1, Connect, and Features/Charts within the new Apple Music App.
How competitive is this new offering from Apple? Consider that Pandora saw 20 BILLION LISTENING-HOURS (TLH) in 2014. Who wants to take a guess on when Apple will hit 20B TLH from date of launch? One component of the Beats 1 offering may be in direct competition to Pandora: "Be your own station manager. Building your own station couldn't be easier. Just select any song, album, or artist and it will practically build itself. Adjust the mix…" But Pandora is pretty well entrenched with incredible market reach and die-hard users. Some speculate that Apple, being a hardware company, can be the "default" experience for streaming music when you buy a Mac or an iPhone, similar to the success of the iTunes Store. Should this be worrisome for competitors? As the overall market is still in it's infancy it has plenty of room to accommodate new players, I doubt Apple will be killing any competitors this year.
The launch of the new Apple Music is slated for June 30th. The presentation was mobile-centric, and introduced the world to:
"Beats 1"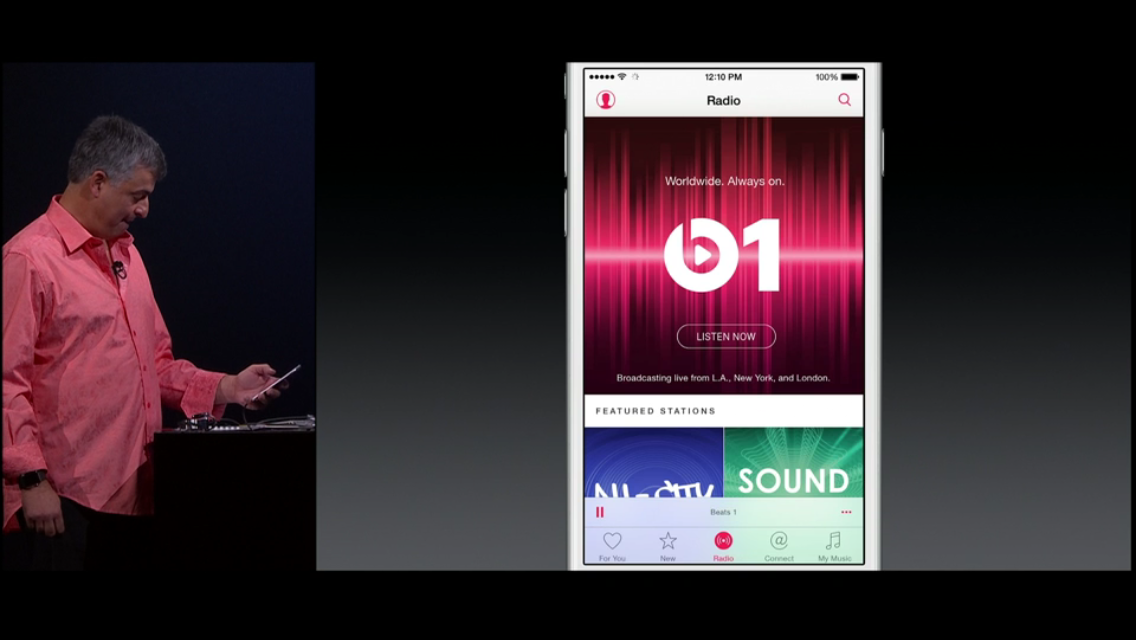 Above: the new "Beats 1" landing screen.
The new Apple Radio service is brought to you by some great radio and broadcasting professionals from around the world: former BBC DJ Zane Lowe, former public broadcasting Londonite Julie Adenuga, and Ebro Darden from NYC's HOT97. Some of the best radio is coming out of the UK is the word on the street, and there is sure to be many expertly curated stations that go a bit beyond the norm.
From the announcement and Website copy it appears Apple will be looking for popular users that program great stations, and will feature those stations. Zane will run his "Flagship" program on Beats 1. Ebro will be "representing the sound of NYC — an electric, open-all-hours melting pot of music and culture." And Julie's programming on Beats 1 "will bring London's vibrant music culture to the rest of the world." Among revamped playlist we see many others curated by "genre experts", and we will also see playlists from Rolling Stone, Q Magazine, Pitchfork, DJ Mag, Shazam, and MOJO magazines.
"Connect"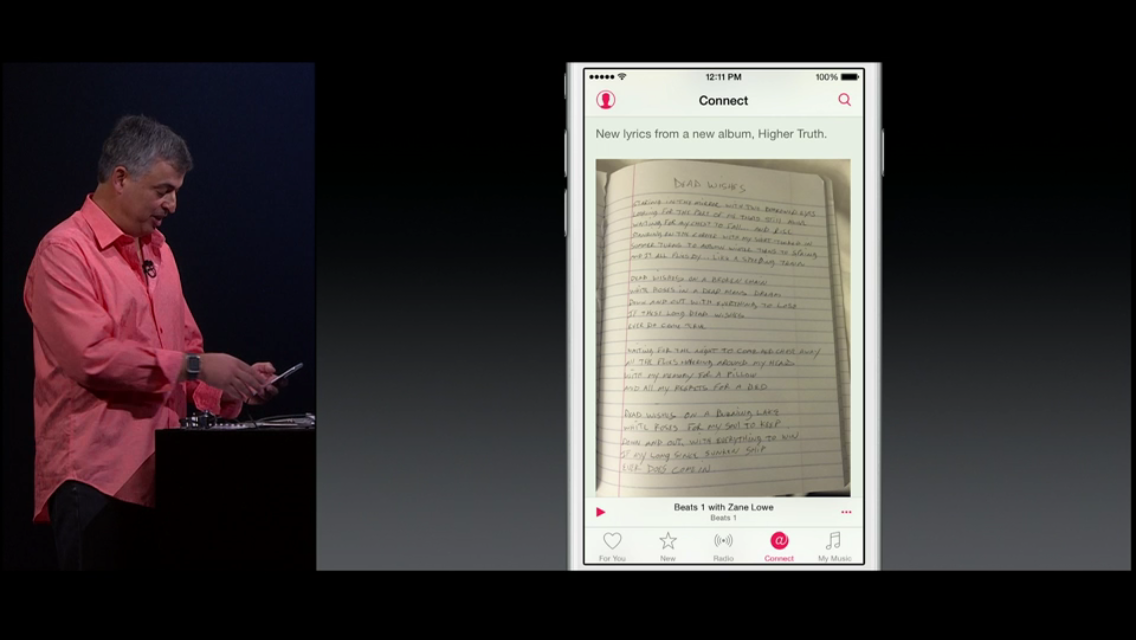 Above: An artist posted new handwritten lyrics on "Connect" to share with fans.
Remember Ping? Ping was the music-oriented social networking and recommendation system service developed Apple for iTunes that was launched on September 1, 2010, and was closed and replaced with Facebook and Twitter functionality on September 30, 2012. Connect will be more enticing for many music fans.
"Connect is a place where musicians give their fans a closer look at their work, their inspirations, and their world. It's a main line into the heart of music — great stuff straight from the artists."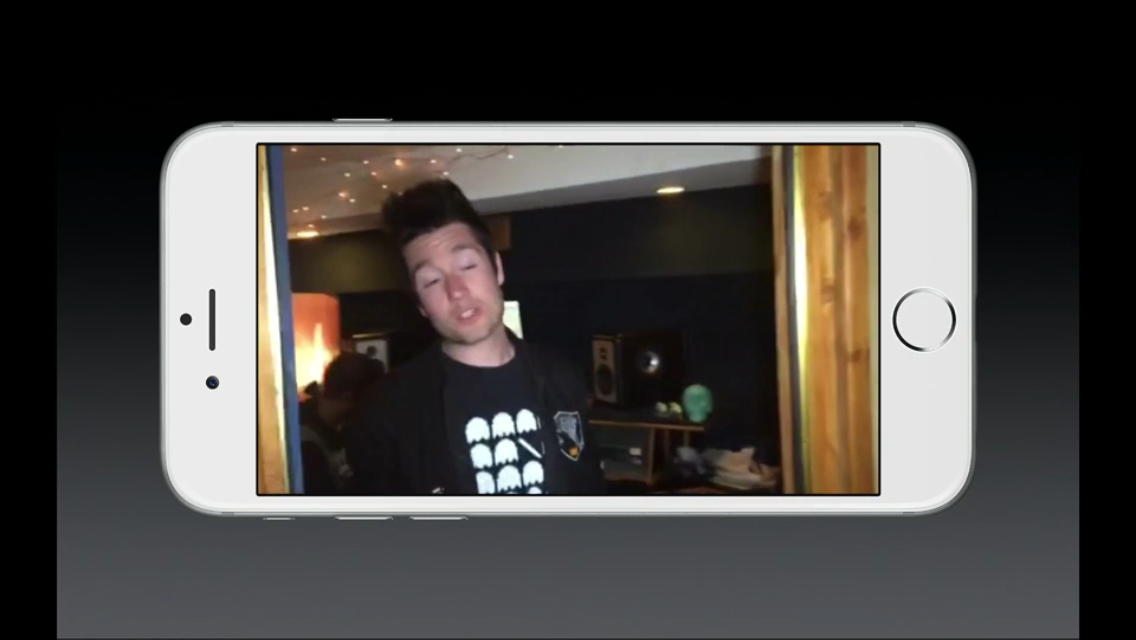 Above: An artist uploaded a video to their "Connect" profile to say hi to fans and preview a new "riff" for a song from the studio.
Connect will be a new "semi-owned media" platform for all musical artists; if artists are offered control of their "profile" they will be claiming their digital real estate. Back in the Ping era, now considered "the early days" in (paid) music streaming, we never thought we would have an interactive experience like chatting directly with artists or experiencing exclusive live content. When Ping was released we were not sitting behind Pandora hitting the "thumbs up" button hoping that Drake, Kanye, or Paul McCartney would appear on our screens, call us by name and play a tune exclusively for us. Expect some interesting developments by competitors in response to Apple Music Connect. There has been opportunity for some time now (read: monetary potential) for emerging and top-tier artists to secure multi-year exclusives. You will see some artists offering exclusives on Spotify, Pandora, and some will go to Apple.
As a fan and an artist, I'm excited to see this unfold.
"Discover"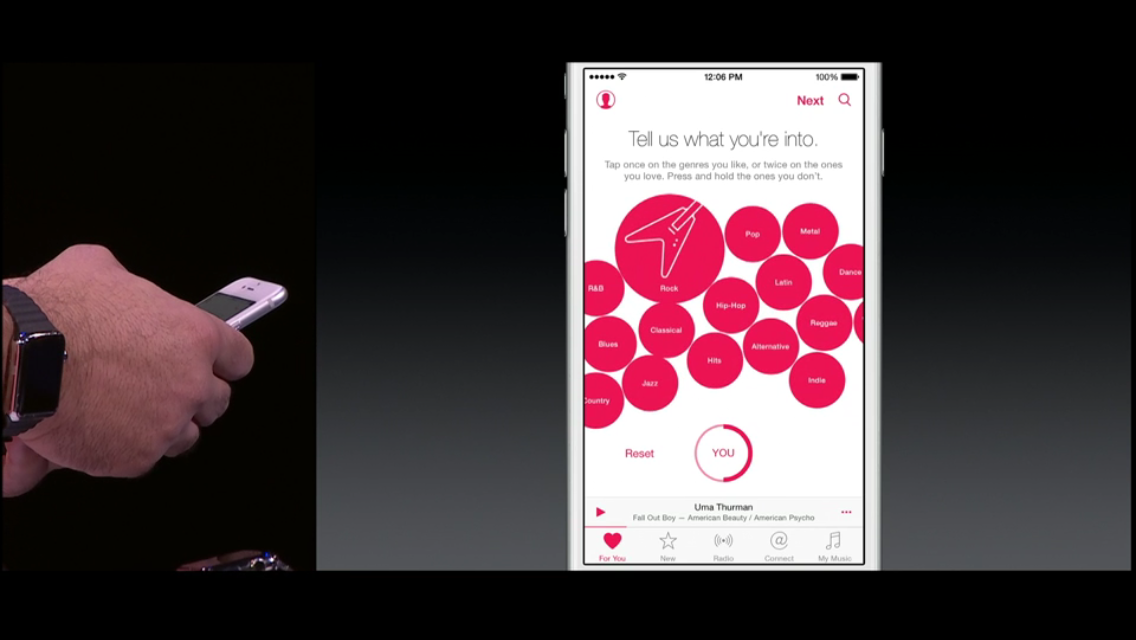 Above: The "Discover" landing screen showing genres to choose from.
This is the part I am least excited about, but it's always a very important part of the library, search, find, discover, and recommendation responsibilities of every respectable music service. Part of my job as an aspiring product professional.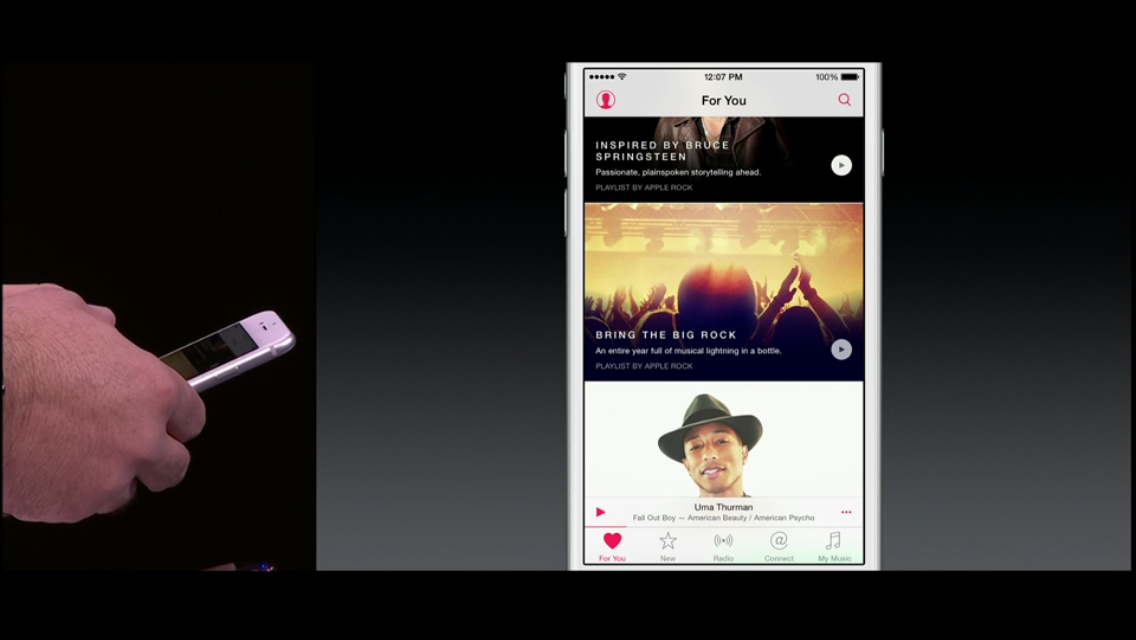 Above: Recommendations after choosing a few of the red balls or genres.
Some complain that "Spotify has too many songs." Now, Apple will try to calm your crazed musical eyeballs with a new "For You" screen that displays recommendations generated from your library, and the "largest and most diverse collection of music on the planet", after you interact with this red ball / genre screen. Hey now!
"Membership"
Apple announced how much their new musical playground costs: it's free for three months, and that gives you the full Apple Music experience on your iPhone, iPad, iPod touch, Mac, or PC. After that it's $9.99 a month and the family Plan includes 6 devices and is $14.99.
"Final Thoughts"
There are reportedly 45 million paid subscriptions total to all niche music subscription services similar to Apple Music.
Apple has, at last count, over 800 million user profiles with credit card information in iTunes.
Apple is stating they will get 100 million new subscribers to their new streaming radio service "Beats 1".
Rap artist "Drake" just announced he is launching (read:windowing) his new album on the new Apple Music service. Expect more artist to follow.
In light of its position, Apple could help change consumer behavior of paying for music subscription services. This is a good thing, not only for Apple but for the entire industry.
There is sure to be more juicy news on the new Apple Music service before the upcoming launch on June 30th. Be sure to follow me here on LinkedIn for more updates in the future, and also on my continuing popular SXSW panel / discussion series "The 7 Hottest Topics of Web MusicTech" on Medium at medium.com/@Webmusictech