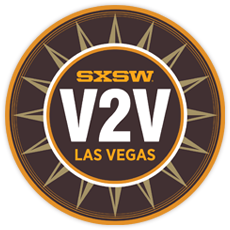 I'm very excited to be on the 2013 SXSW V2Venture Advisory Board. I want to tell you more about this event. Please contact me if you want to participate and have me screen and possibly recommend your efforts for the competition.
About the event
V2Venture is a fast-paced, two-day pitch event geared to take the most innovative startups through a rigorous review and rehearsal process before unleashing them on a live audience and panel of esteemed judges. Competing startups will go through an extensive online review process by the SXSW V2Venture Advisory Boards before being chosen to compete onsite. Finalists will square off for a no-holds-barred, Vegas-style showdown in Las Vegas, August 13-14, 2013.
** Application Deadline for Companies to Apply to SXSW V2Venture is Friday, May 31, 2013 at 5pm CST **
Event Categories
Culture and Entertainment Technologies
Here we go peeps! This is our thing right? Let's do this.
The Culture and Entertainment category includes applications and technologies for music, gaming, film, television, and digital storytelling, as well as new and hybrid forms of entertainment that are reinventing the ways in which we relax, unwind, and have fun. This category could also contain technologies that focus on other cultural sectors, such as sports, fashion and food, as they pertain to entertainment.

Mobile and Tablet Technologies
Mobile warriors show me what ya got!
The Mobile and Tablet Technologies category encompasses mobile applications and technologies which allow users to connect by portable devices such as tablets, phones, and other connected devices.
Education Technologies
The Education Technology category highlights applications and technologies designed to make all forms of education more accessible to a wider range of people, and bring students and teachers closer together.
Health Technologies
The Health Technologies category focuses on patient-centric health applications and technologies that connect patients, families, physicians, pharmacists, care providers (hospitals, clinics) and benefit providers to share timely, relevant health data and drive better outcomes at affordable and sustainable cost levels.
Innovative World Technologies
The Innovative World Technologies category includes applications and technologies that have the ambition to change the world as we know it. Right now we're seeing lots of innovation in green tech, real-time search, augmented reality, the World Wide Web, artificial intelligence and the Semantic Web, recommendations technologies, personalization technologies, and "big data".
Website
http://sxswv2v.com/venture