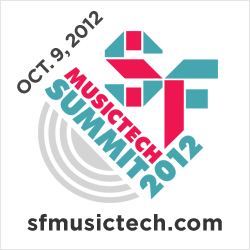 It's about that time again. Yes indeed it's the 11th SF MusicTech Summit on Tuesday October 9th. Should be a great day I can't wait! The speaker list is shaping up and the schedule soon to be published.
I can't put it across any better than what is on the Website: "The SF MusicTech Summit brings together visionaries in the evolving music/business/technology ecosystem, along with the best and brightest developers, entrepreneurs, investors, service providers, journalists, musicians, and the organizations who work with them at the convergence of culture and commerce. We meet to do business and discuss, in a proactive, conducive to dealmaking environment." Sound like your thing? Please join us.
Get your dance on with the SF MusicTech Summit's opening party: the SFDJ Showcase! Presented by California Music and Culture Association, the event raises funds for San Francisco's first major DJ street music festival. Head over to Mighty on 10/8, support local DJs, and enjoy some great electronic dance music. http://sfdjshowcase.eventbrite.com/
OR join us at the opening night gathering!
Registered SF MusicTech Summit attendees only.
Monday, October 8, 2012
5:00 pm – 7:00 pm
Yoshis Jazz Club & Japanese Restaurant, Sake Lounge (Mezzanine Level)
1330 Fillmore Street
San Francisco, CA 94115-4113
(415) 655-5600
MusicTech Developers! Are you going to "SF Music Hackday" the day before the SF MusicTech Summit? Check it out and register here: http://sfmusictechhackday.com
Start-ups! Enter the SF MusicTech Startup Challenge today! Check it out and register here: http://sfmusictech.wufoo.com/forms/sf-musictech-summit-xi-startup-challenge/
The day after SF MusicTech we have digitalmusic.org's Music Startup Academy in San Francisco on Wednesday October 10th. Are you an entrepreneur, music startup or app developer looking to break the barrier of entry into the music industry? Get a grasp on the core topics you need to create a viable and legal music service or app by attending Courses include labels and publishing, content acquisition, business development and operations. Plus, get the down and dirty on how to program for Spotify, Rdio and Rovi during the API Meetups. For more info and to register,visit http://1010sfmusicstartupacademy.eventbrite.com/. Use code 'toddtate-25' for a 25% discount.
Check out all the event's going on during SF MusicTech Week!
[iframe src="http://www.sfmusictech.com/sf-musictech-week/" width="100%" height="900″ scrolling="yes"]