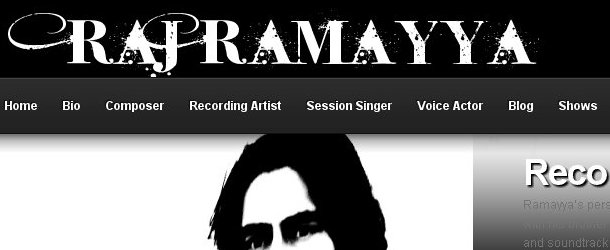 I completed a great custom Website using WordPress for international rockstar Raj Ramayya.
This is not a typical "fan site" nor really a "band website." Raj is a very successful musician that resides in California, but works often in Tokyo and Canada and needed a business site to help his international agents get him jobs.
This site contains the following elements to help agencies and brands identify Raj as the man for the job. I will highlight some of the contents and approach:
Easy 1-click audition of music and talents as a composer, recording artist, session singer, and voice over actor by using a combination of Soundcloud widgets and YouTube embedded videos.
Viral "music" page using Soundcloud "Premier App" that can be shared on Facebook or Twitter.
All of the Web sites musical content is available on front door and can be transcribed into any language via one button.
The site is visually exciting and engaging, just like the industry Raj targets.
Tag cloud features keywords that include Raj's impressive past clients and jobs.
Contact page enables easy access to Raj's main agent in Canada.
"Connect with Raj" widget enables discovery and communication with Raj himself.
Filmography using Google Reader widget shows impressive resume prepared by Raj's agent.
Password protected "Client" Page can be used to submit mock-up and proposals to potential clients.
"Press" page included embedded Google Alerts/Google Reader embedded technology – Raj is able to browse press hits on the Web, and qualify them before publishing with one click.
"Shows" page includes very effective use of Artistdata.com embedded shows widget. Raj simply posts shows in one place, syndicates to over 20 popular online calendars * and * it shows up here.
"Blog" provides means for Raj and his agents to post his latest activities.
Need a great looking custom Website or Blog?