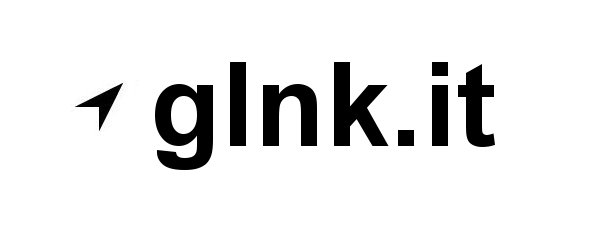 Going international with Glnk.it! With one dashboard lead international visitors to pre-determined pages and track clicks!
Welcome to 5thbeatle.net Web and social media strategy, management and production services for musicians, bands and brands based in San Francisco Bay Area. Free tips and tricks. Today we have more showcasing of code warrior Lee Martin's web technology on 5thbeatle.net. I feel lucky to be involved with the SF MusicTech Summit and get to know cool, innovative people like Lee. I get previews of new Web tools and get to share them with you all and use them on my clients on-line marketing efforts.
Here is a description of Glink.it right from @leemartin:
"Glnk allows you to define a bundle of links that are each associated with a specific country. When a user clicks your glnk they are redirected to the link specific to the country where they are from. Pretty simple. (Here's a glnk I made for Beastie Boys: http://glnk.it/r)
This was built after working so many album pre-order campaigns where I would be building pages with fifty different country-specific pre-order links. One time I put a little flag next to each link, making the page look more like the United Nations than a pre-order! But now I can build a simple page with one link: 'BUY THIS SHIT' and fans will be redirected automagically to the appropriate purchase link. Sweet."
To experiment for my band Life Love Misery, I found ways to translate my band page for Japan, Italy, Germany, France, Brazil, and Spain. The 6 places I would love to rock and have received sporadic fan notes from over the last year or so. (the 6 places I would love to rock and from where I have received sporadic fan notes over the past year). I went on to program URLs for these pages in the easy-to-use Glnk.it interface.
Whamo.
The next step was to simply program Tweets in Hootsuite in these specific languages to be sent when I knew some of the international community may be watching the #sfmusictech hashtag (which trended on Twitter on May 9, 2011 during the actual event). Included in each tweet I used the ONE Glnk.it link which is http://glnk.it/1y for the Life Love Misery Web site.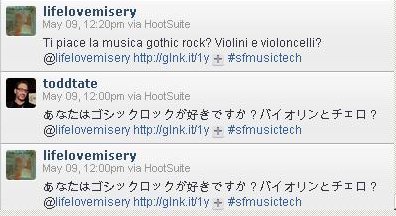 And in conclusion, we have the results by clicking here. By looking at the the Glnk.it dashboard we can see I conducted an experiment and it worked. 299 clicks from the US or "other places",12 clicks from Japan, 7 from Italy, 6 from France, 3 from Germany, and 1 from Brazil very soon I am told by Celso Alberti.