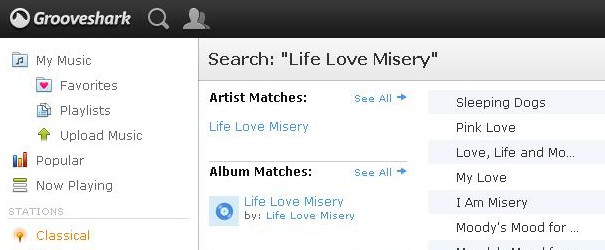 "I'm on a low budget! What did you say?"
— The Kinks
How are you going to get your band's songs everywhere and on every available Web service? "You want to be everywhere" has historically been the consensus of music industry panels (I think I've heard Tim Quirk said that a few times). But there are more cost-effective ways to make your presence known; this post explores how to "be everywhere" in the most cost-effective ways.
Like celebrity & fashion, music is hype. We've all seen that riding the hype in some tactful or strategic fashion can be effective. Because there are many ways to look at this, I will focus on two services and two segments of media: hype and cash-money paid advertising.
Episode I – Grooveshark: The double edged sword.
Though highly frowned upon by the recording industry as being an illegal service and being very legally nasty in making the DMCA takedown agent process very hard to initiate with them, they are nonetheless enjoying increasing usage. According to www.crunchbase.com, end of November 2010 saw Quantcast numbers of up to roughly 600k users at www.grooveshark.com , when compete.com is showing 4M listeners at subdomain http://listen.grooveshark.com. So the hype is bringing users and they have a program for artists or lesser-known content/rights holders to upload their songs to get on the application bandwagon. In 2009 CNET voted them as "2009 Webware Winner for Audio and Music" and they received more acclaim in 2010. No doubt they are on the rise in 2011. Educate yourself and see if you want to ride the wave.
Venturebeat
Ted Cohen: TAG Strategic | MIDEM Blog
But HOW to ride the wave? Of course they have a feature where you can pay to get into the app and have it appear with other "similar artist" search returns. As they put it:
"Find new ways to share and promote your music to your fans. Use our tools to focus on your target audience and determine what they like to listen to. Sign up for Grooveshark Artists today."
I added one of my masterpieces… what the heck?
"Listening to Sleeping Dogs by Life Love Misery on @Grooveshark: http://tinysong.com/CqIG #nowplaying " is what can be shared via Facebook or Twitter, and it can be purchased via iTunes or Amazon via the information that I entered.
The Dashboard is impressive with access to many metrics, and for $100 you take it for a test drive to get a good taste of the analytics and what your ROI is going to be as a "DIY Independent" artist that is trying to get some traction and regional or national exposure. Check it out, 2,500 plays for $100, and you get to pick your similar artist so you come into the stream when users search for that famous artist. Basically the same idea as Angry Coffee's "Percolator" (first publicly available web interface to P2P networks) that I and my teammates launched in 2000 that companies have been mimicking ever since, including Seeqpod. ( RIP ).
IF I were seriously promoting my music right now, I would spend the money and do this. But I am not, so I just uploaded my song so it does come up if you search for it. And if fans find it, and share it on Twitter; that my fine-furry-friend is information available to come up on search returns, therefore SEO rocking.
If you decide to experiment and spend the $100 please send me your results and I will publish them.
See ya next time when we talk about using Jango Radio in the same fashion.